Beskrivelse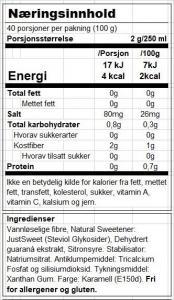 Dette Amazon Secret produktet er instant (pulver) som etter tilberedning vil være en prebiotisk, lav-kalori amazonasdrikk. Pulveret ble laget med dehydrert ekstrakt fra røstet/brente guaranábønner. Drikken er søtet med vårt naturlige prebiotiske søtningsmiddel, Claudia Münch® JustSweet.
Tilberedning: Bruk 2g (1-2 teskjeer) pulver som løses opp i 250 ml kaldt vann. 10 g per liter vann, eller etter egen smak (du kan bruke mer, eller mindre).
GLUTENFRI
THE AMAZON SECRET® SMAKER SOM OM DEN VAR SØTET MED SUKKER, MEN ER IKKE. PRODUKTET ER PREBIOTISK, UTEN KONSERVERINGSMIDLER, UTEN SYNTETISKE SØTSTOFF OG UTEN POLYOLER (SUKKERALKOHOLER). BIOLOGISK NEDBRYTBAR SØTNING.
THE AMAZON SECRET® ER NORGES STØRSTE DRIKKEVAREBRAND PÅ SOSIALE MEDIER, MED MER ENN 200.000 FØLGERE. HVIS DU IKKE ALLEREDE FØLGER OSS, SÅ GJØR GJERNE DET. DA GÅR DU IKKE GLIPP AV NYHETER, LANSERINGER, KAMPANJER, TILBUD OG KONKURRANSER. KLIKK HER FOR Å GÅ TIL THE AMAZON SECRET PÅ FACEBOOK (ÅPNER I NY FANE).